RedBallFire

is a Bureaucrat, in addition to performing

Administrator

duties, helps with the day-to-day administration of the wiki by establishing the wiki rules and managing user rights. Please consult their message wall if you have any problems to report.
| | |
| --- | --- |
| | RedBallFire is an Administrator, a primary enforcer of the wiki's rules, taking an active role in resolving disputes and combating spammers/vandals. They have a number of abilities to aid them in this task, such as protecting pages and blocking users. Please consult their message wall if you have any problems to report. |
RedBall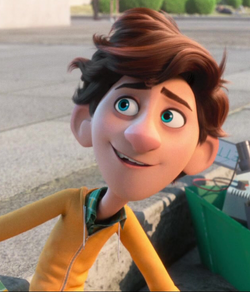 Hi! My name is RedBall, I contribute in several TV and Movies FANDOM communities. I am the current bureaucrat and admin of the Spies in Disguise Wiki. If you have any problem you can contact me on my wall or on Discord!
My story here:
I came to this wiki on January 8, 2020, days after the movie was released and since I saw it for the first time, I liked the movie so much that I wanted to contribute with its wiki, but, it was empty, no users and not a single page, its founder left it when he founded it, there was another wiki founded after this one, but I felt more passion for it, I started to create the character and movie pages, but I was absent for a month, until I returned in March, I continued creating pages, and on April 16, 2020 I adopted this wiki with success, I also have to emphasize that this is the first wiki not of animated TV series that I edit and where I am admin, from that day I fixed the design in general and got the other wiki mentioned before to be merged with this one. Now I edit with more passion here!
Favorite Characters:
I think my favorite characters in the movie are Walter, Lance, Marcy and Crazy Eyes.
My To-Do List:
Complete stub articles.
Rewriting the character pages.
Find good screenshots of the film.
Ended:
Writing the Film Transcript.
Improving Wordmark.
Finish creating and extending the film crew pages.
Wiki Progress: